Events at Donida Farm draw hundreds of horse enthusiasts and other consumers to our showgrounds, offering great opportunities and exposure for your business through sponsorships.
For over 40 years, Donida Farm horse shows have featured some of the best riders from around the Northwest, including past and present National and International Champions competing for the prestigious honor of taking home their defending titles.
These events are held at Donida Farm Equestrian Center located in the countryside of Enumclaw, just thirty minutes form the Seattle/Tacoma Airport. The show season promises to provide something for everyone — intense competition, fantastic entertainment for families, a state-of-the-art facility for riders, premium hospitality and enhanced benefits for sponsors or vendors.
The United States Equestrian Federation of Lexington Kentucky shares our goals in making these events a first class production.
Why Sponsor at Donida Farm Events?
Competitions within the International Horse events is a high profile sport full of fast-paced action that makes it not only exciting, but highly entertaining and engaging. The sport reaches an affluent, upwardly-mobile market segment that is passionately loyal to products and services that support their equestrian interests. By taking advantage of this sponsorship program, your company will seize a competitive opportunity for effective corporate marketing. These events are an excellent opportunity for you to showcase your products to the equestrian audience which is comprised of riders, owners, trainers, grooms and spectators.
Sponsorship opportunities available for your company may include:
Show Program Book Advertising
Website Links & Internet Marketing
Prize List Recognition and Award Presentations
On-site Signage and Display
Announcement Recognition Throughout the Event
VIP Hospitality
Donida Farm horse shows offers a wide range of sponsorships opportunities with benefits that can be customized to provide the greatest value for your company or business. Come and be a part of this tradition of excellence by becoming a sponsor of any or all of the Donida Farms equestrian events.
We invite you to become our partner this year!
Questions?
Perpetual Trophies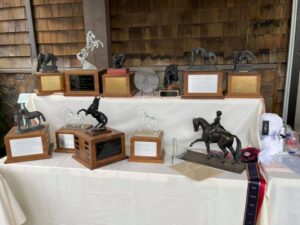 Donida Farms offers  Perpetual Trophies for your permanent sponsorship! Trophies will be displayed during all of the Dressage shows.
This is a Sponsor's one time opportunity for a name of your choice, or a business to be placed onto a trophy that will be presented annually to the winners for years to come. These trophies return to a new competitor with each year. These trophies are an assortment of sculptures, paintings, and silver cups with your name engraved on it.
Perpetual trophies needing a supporter are $500.:
Sponsor one of the limited Perpetual Trophies in the name of your business. Present the trophy in the winners circle during the Donida Farm Festival Dinner held in July.
ARENA: Interested In sponsoring a Competition Arena in Your name? Display your banner in a prominent location inside the competition area.
Interested in sponsoring a perpetual trophy or arena? Contact Gwen Blake 360-507-9306 or Go410s@aol.com
---
Donida Farm Dressage Festival Perpetual Trophies sponsored by
1st – 4th Level Junior,
sponsored by Mary Bridge Pediatric Surgery
Training Level Adult Amateur,
sponsored by The Red Mare
1st – 4th Level Adult Amateur,
sponsored by Lilly Wilson Partners
Training Level Open,
sponsored by Mary Houghton and Melanie McCoury
1st – 4th Level Open,
sponsored by CHL Farrier Services
USDF Musical Freestyle,
sponsored by Dreitzler Dressage
FEI Open,
sponsored by Donida Farm
Dressage Seat Equitation,
sponsored by Joann Keller in memory of Chris Tann,
dedicated rider and beloved friend
Reaching for the Stars Junior Inspirational Award,
sponsored by The Ritzau family
Please visit their links below