DRESSAGE THROUGH THE LEVELS
with DAVID BLAKE & REBECCA RIGDON
APRIL 23rd & 24th, 2022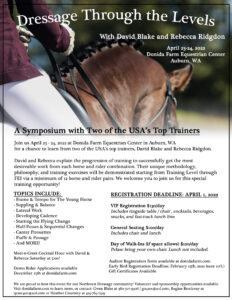 Join us April 23-24, 2022 at Donida Farm Equestrian Center for a chance to learn from two of the USA's Top Trainers:
David Blake and Rebecca Rigdon
David and Rebecca explain the progression of training to successfully get the most desirable work from each horse and rider combination. Their unique methodology, philosophy and training exercises will be demonstrated starting from Training Level through FEI via a minimum of 12 horse and rider pairs. We welcome you to join us for this special training opportunity!
Upcoming Events at Donida Farm
DRESSAGE SCHOOLING SHOWS
NEXT SHOW – FEBRUARY 5, 2022
SADDLE UP SERIES
NEXT SHOW – FEBRUARY 12, 2022
Gwen Blake is Sponsored By