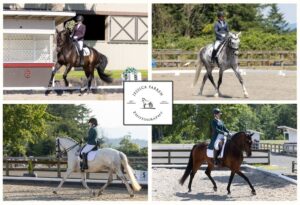 OFFICIAL SHOW PHOTOGRAPHS
by
JESSICA FARREN PHOTOGRAPHY
Sign up at:  Horse Show Photographer — Jessica Farren Photography—Equestrian + Pet Photography
PERPETUAL TROPHIES:
Jr. Training level
Jr. First – Fourth Level
Adult Amateur Training Level
Adult Amateur First – Fourth Level
Open Training Level
Open First – Fourth Level
FEI Open
Jr. Inspirational Award
Adult Amateur Inspirational Award
Special awards for participating in 3 of the 4 Recognized Donida shows. Top three placings will be averaged for High score. You will need three scores from three different shows to count. Drop scores allowed. Dressage Festival is the final show.  See prize list or website for details and rulings.
SILENT AUCTION PREVIEW
Our auction proceeds ALWAYS go back into the facility for YOU.
Check out some of the amazing items already donated:

DONIDA FARM DRESSAGE FESTIVAL – ACTIVITIES & EVENTS
Participating Show Dates:
 Donida Farm Festival #1 is July 28 & 29, 2023 and Donida Farm Festival #2 is July 30, 2023

THESE ARE TWO SEPARATE SHOWS
YOU MUST COMPLETE A SEPARATE ENTRY FORM FOR EACH SHOW!
PLEASE PRINT, SIGN & RETURN USEF WAIVER Coming soon
ONLINE ENTRY SUBMISSION
You can now use EquestrianEntries.com to create your entries for these shows online. Use the following link Results | Fox Village Dressage Horse Show Management Software If you do not already have a user account with EquestrianEntries.com , please sign up! There is no charge to join!  As a first time user, you can get $5 off your first paid online entry submission. Input the following in the Coupon Code in the payment section: FIRSTENTRY.
Equestrian Entries system remembers your information, making it easy to fill out entries for different shows, you will only need to change the class information.  The system will automatically verify that all USEF and USDF cards are current for the show year (this includes, horse, rider, owner, trainer and coach).  If the system is unable to verify the cards, the entry will automatically be charged the non-member fees for either/both USEF and USDF.
Since signatures are still required for every entry, you can either send the signature page with all original signatures to Equestrian Entries if you are paying online, or sign your entry at the show when you come to pick up your packet.  Those that are printing the entry and sending it through the regular mail will just sign the entry as they have done in the past.
You can print your entry and snail mail it with a personal check, or pay online with a credit card or Paypal account. If you chose to pay online there is a 3% fee plus a $5.00 handling charge. There is no charge to join Equestrian Entries, create an entry or print an entry. So if you chose to pay by personal check, the service is free. We appreciate your using the preferred entry method.  If you have any questions about this new service for the shows please contact the show secretary, Mary Neal dressagesec@aol.com (509) 248-9145.  Thanks!
SHOW MANAGER: Gwen Blake (360) 507-9306
SECRETARY: Mary Neal, dressagesec@aol.com (509) 248-9145
916 S 21st Ave
Yakima WA 98902
FACILITY MANAGEMENT:  Donida Farm, Gwen Blake, Owner
go410s@aol.com (360) 507-9306