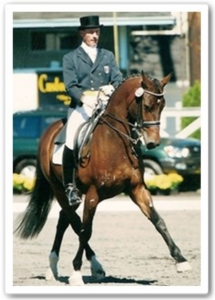 Gwen Blake welcomes Christophe Theallet French Classical Dressage to Donida Farm for a series of clinics in 2017.
Christophe Theallet is a graduate of ENE French National School, Saumur. He has trained and ridden with numerous top trainers including Rudolph Zeilinger, Patrick Le Rolland, Christilot Boylen, and Steffen Peters. Christophe represents France in international competition and has done so for the past 20 years. Coach of the 2004 FEI Young Rider Washington Dressage Team, Tempel Farm. Besides competing, he has also trained many riders and horses through Grand Prix in New York, New Jersey, and Florida.
The Christophe Theallet Philosophy
"Our sport is difficult because the rider is only as good as the horse. It's all about opportunity, but sadly opportunity is money in our sport. I do believe, though, with hard effort and the right coaching there are realistic possibilities."
Christophe focuses on the willingness in the horse, "While I do have a proven strategy for creating an exceptional rider, I also think the same is essential with the horse. Riders must understand just how different they must be with each horse, that the basics are fundamental to a pair's future. The rider must train classically, always ride with a plan in mind, and do good basic work with good transitions and with a good position. And, know that less is more."
Wanting to be recognized as the trainer who perpetuates the tradition of correct classical riding, he explains, "The position precedes the action. The bend of the neck equals the bend in the body. Rider legs means go. Hands means back. Legs without Hands, Hands without Legs. Speed Control. Less bend is better at the beginning for the horse. And, the importance of understanding shoulder control. Nobody pays attention to these things because they are the little things and they are boring. But, truly, they are the building blocks for their future."
Next Clinic: ( Christoph comes monthly +) Auditors $30 per day. Grooms/owners welcome. non refundable

March 14,2017 ( single tune-up day) Ride spots available $230 per lesson non refundable
50% deposit holds your spot. Mail to : Donida Farm C/O Clinic, 16420 s,e, 368th, Auburn, WA 98092 or pay pal to: gwen.blake@donidafarm.com

For information on this clinic, contact Gwen Blake 360-507-9306 or  at go410s@aol.com.